Szechuan peppers have been used for culinary and medicinal purposes in China for centuries. Wasabi roots have also been used in Japan for at least a thousand years for similar purposes. Today, consumers are more open to experiencing unique flavors and experimenting with levels of heat. The next two articles will compare these two unique mysterious flavors. First, let's start with trending Szechuan Peppercorn.
The Berry with a Zing
What better meal to have on a cold rainy day than a dish with a little zing in it; and nothing has a better zing than Szechuan peppercorns. Szechuan peppercorn is also known as Szechuan pepper, Chinese prickly ash, Timut pepper, or mala pepper.  When eaten it produces a tingling, numbing effect. The spice also has the effect of changing other flavors tasted with it.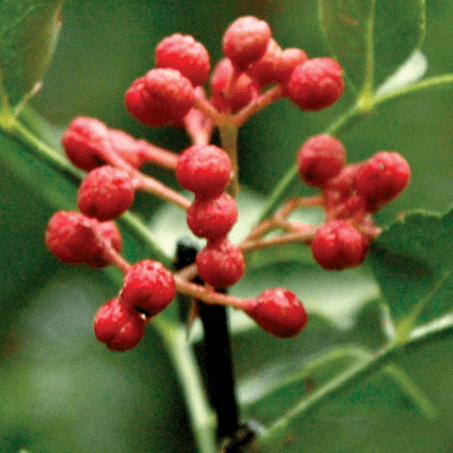 The Szechuan peppercorn is commonly added together with chili peppers to create a flavor known as málà  or "numb-spiciness".  This spice combination adds a unique flavor profile that is lacking in the individual spices.  And this flavor is the magic of Szechuan cooking.
Szechuan pepper has been used for more than 2,000 years in China.  The first use documented was in the Han Dynasty where it was mixed into plaster to "perfume" the walls of the buildings that housed the emperor's concubines. It was supposed to "warm" the rooms, to perfume the air, and to inhibit insects. During the same time in northern China, it has been found in tombs and with meals supplied for the afterlife.
As the peppercorns were thought to exorcise evil spirits it makes sense to have them as extra added protection.  Another interesting use in the 11th century BC was as a token of affection during dating.  In some rural areas today, they still use Szechuan peppercorn to throw over the newlyweds. Similar to rice as confetti, it is a sign of peace and longevity. 
Szechuan peppercorn grows on a low maintenance shrub, Zanthoxylum bungeanum. On average, it grows about fifteen feet high and thrives on sunny days.  These prickly ash shrubs are native to the Szechuan province of China. Several Zanthoxylum species also grow in Japan, the Himalayas, and North America. 
Although the Szechuan peppercorn bear some resemblance to black peppercorns, they are not of the pepper family. They are dried berries of a tree of the rue family.
The most common peppercorn found in stores in the United States are the red Szechuan peppercorns. However, there are other varieties including Chopi from Korean, Sansho from Japan, Teppal from Western India, and Timur from the Himalayas.  While the color can vary from green to dark brown all these pepper berries create similar flavor sensations.
Although the peppercorns bear some resemblance to black peppercorns, they are not of the pepper family, but the dried berry of a tree of the rue family. While the green freshly picked Szechuan peppercorns may be used in cooking, the dried pepper is more commonly used. Once dried, the shiny black seeds inside the husk are discarded as they are hard and tasteless along with any stems. The dried berry husks are what is used in Sichuan cooking. While they can be used whole, normally the peppercorns are finely ground or infused in oil.
Szechuan peppercorn initially causes a tingling numbness in the mouth followed by a citrus-like flavor. The numbness is caused to the presence of hydroxy-alpha sanshool.  Historian Harold McGee describes the effect of Szechuan pepper as producing   "a strange, tingling, buzzing, numbing sensation that is something like the effect of carbonated drinks or of a mild electric current (touching the terminals of a nine-volt battery to the tongue). Sanshools appear to act on several different kinds of nerve endings at once, induce sensitivity to touch and cold in nerves that are ordinarily non-sensitive, and so perhaps cause a kind of general neurological confusion."  This phenomenon called paresthesia, in which the lips and tongue feel as though they are vibrating and go vaguely numb – known as má.
It's better to grind your peppercorns in small batches because they will lose their flavor quickly. Freshly ground Szechuan peppercorn is better fresh. Also sifting the ground pepper will remove any larger particles that can be sharp or have an unpleasant texture in a recipe.  Refrigerate any extra ground Szechuan peppercorn.
Also avoid over roasting the peppercorns. A little toasting is great because it will bring out the flavors. But too much heat will cause the loss of the citrusy limonene molecules. It will also cause the development of too much nutty pyrazines (like fire roasted bell peppers) which can mask the more delicate flavors.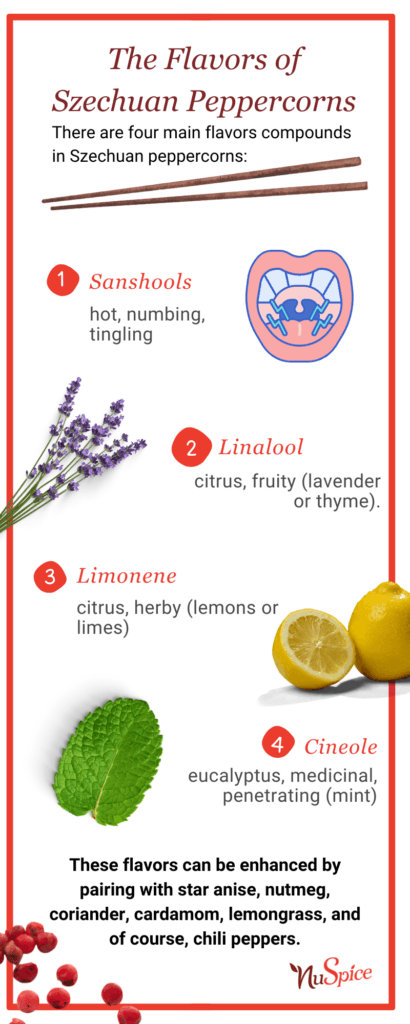 Medical Effects
In China, Szechuan peppercorn has traditionally been used as an herbal remedy.  It is prescribed for ailments as various as abdominal pain, toothache, and eczema. Research has revealed that Z. bungeanum can have analgesic, anti-inflammatory, antibacterial, and antioxidant effects. The elderly believe that using a cane made out of the ash tree transfers these properties to their bodies helping with arthritis and other age related infirmities.
Pharmacological basis has also been found for the medicinal use of Z. armatum, another type of Szechuan peppercorns, to treat gastrointestinal, respiratory, and cardiovascular disorders. The significant levels of potassium found in Szechuan pepper can make this spice an excellent booster for cardiovascular health.
Potassium functions as a vasodilator. It causes blood vessels and arteries to relax. As a result, it prevents high blood pressure, and lowers the potential effect of blood clots of cholesterol.  But Szechuan pepper can be toxic if taken in large quantities; moderation is the key like in many spices.
Combining Hot Peppers with Szechuan Peppercorns – The "New" Sichuan Cuisine
The unique combination of hot peppers with Szechuan peppercorns is one of the cornerstones of Sichuan cuisine. Yet most people don't realize how recently this pungent combination came together.
It is commonly agreed that the Capsicum was unknown outside the regions of the Americas before 1490s. This was during the time when Christopher Columbus (1450–1506) made his epic voyage, bringing this red-fruited plant along with other food plants from the New World to the Old. Yet the exact routes and dates of the transmission of hot peppers from Europe to China (in particular, to Sichuan) are not clear.
Both overland and sea routes might be possible for the entering of hot peppers into China shortly after Columbian contact. One possible route was through the famous Silk Road traveled primarily by merchants from the Arabian world, where the Chinese might have learned hot peppers from Europe.
Considering the long-established trading routes from South Asia to Southwest China through Burma and China's Yunnan province, hot peppers might also have entered inland China more directly from India.
In this case, Sichuan could have been one of the first areas in China that encountered this foreign plant.
The sea routes may also serve as a possible transmission route for hot peppers destined for inland China. Given the long history of maritime commerce between China's southern coast and Southeast Asia, this plant could have entered China through the trades with merchants from India or Spanish Philippines in the 16th century. Today's Sichuanese still call hot peppers as "sea peppers" which suggests the potential possibility of a maritime transmission route.
Interestingly, the hot pepper did not affect Chinese cuisine immediately after its arrival in the 16th century. It first was seen as a novel garden plant by Chinese literati, who named it "barbarian pepper" due to its foreign origin. Chinese historians generally believe that it was the ethnic natives of Guizhou, a neighboring province to Sichuan , who first consumed hot peppers as a substitute for salt, a scare commodity in the are during the late 17th century and early 18th centuries. Only during the 19th century did some local records begin to mention the cultivation and consumption of hot peppers in the Sichuan area.
From there, it was shortly discovered that the combination of the local Szechuan peppercorns and the foreign chili pepper was an excellent idea. The flavor profile grew rapidly and by the 1900's málà became a well-known Sichuan flavor. When American immigration laws changed in 1965 Sichuan cooking finally came to the United States. Until that time most Chinese restaurants served Cantonese-style cuisine.
Sales of Sichuan Cuisine
Today, Sichuan cooking is increasing worldwide. There are more than 45,000 Chinese restaurants across the US, more than the number of McDonald's, Burger King, Kentucky Fried Chicken and Wendy's outlets combined, according to an estimate by the Chinese American Restaurant Association. When it comes to preferred cuisines, in 2020 Sichuan was the best seller, followed by Korean and Hunan according to Chowbus, a delivery platform for small Chinese restaurants. Even in China, eateries serving Sichuan food made up the largestproportion in 2019. It beat out all other Chinese regional cuisines as well as popular international food choices, according to China F&B Big Data 2020.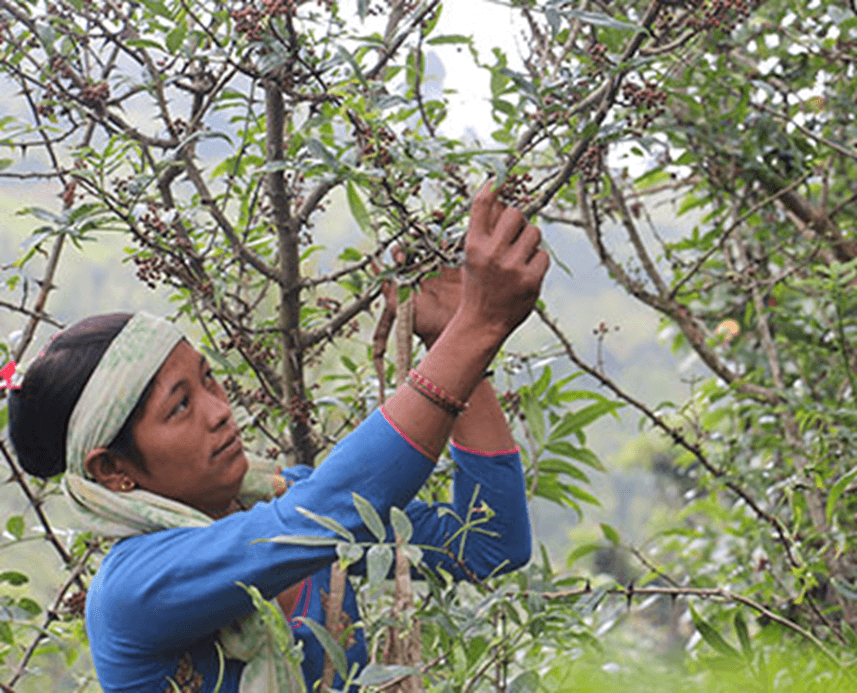 The unique flavor and recipe variety are one reason for its popularity. In addition, due to its reliance on oils and seasonings over fresh ingredients, Sichuan food has proven far easier to mass-produce. The standardization of Sichuan food has also given rise to seasoning packets which are available at many supermarkets for some of its classic dishes. This makes it easier for both restaurant owners and amateur chefs to replicate them.
Traditionally in China, Sichuan food and the Szechuan peppercorn is not seen as a grand cuisine, but as a hearty working class cuisine. It does not use expensive ingredients like shark fin and sea cucumber. That's one of the wonderful things about Sichuan cooking. Simple ingredients like eggplant and bok choy can become daringly delicious. And on a cold rainy day what could be more perfect than a little Szechuan zing!
Interested in putting Szechuan peppercorn to use? Be sure to check back soon, I will be sharing some of my own recipes!