The Specialty Food Association hosted its 2022 Summer Fancy Food Show last week at the Jacob Javits Center located in New York City. Thousands of exhibitors showcased their products at the largest specialty food and beverage event in North America. While we saw the usual trends for specialty diets, such as vegan, keto, and GF, there were several that stood out from the crowd.
Edgy Marketing
Talk about standing out from the crowd, companies are using edgy marketing to appeal to their target audience. GrownA*Foods is a vegan company selling mac and cheese intended to "feed your inner child". GrownAs*Mac is full of funny sayings on its packaging, like its directions on how to make the mac and cheese.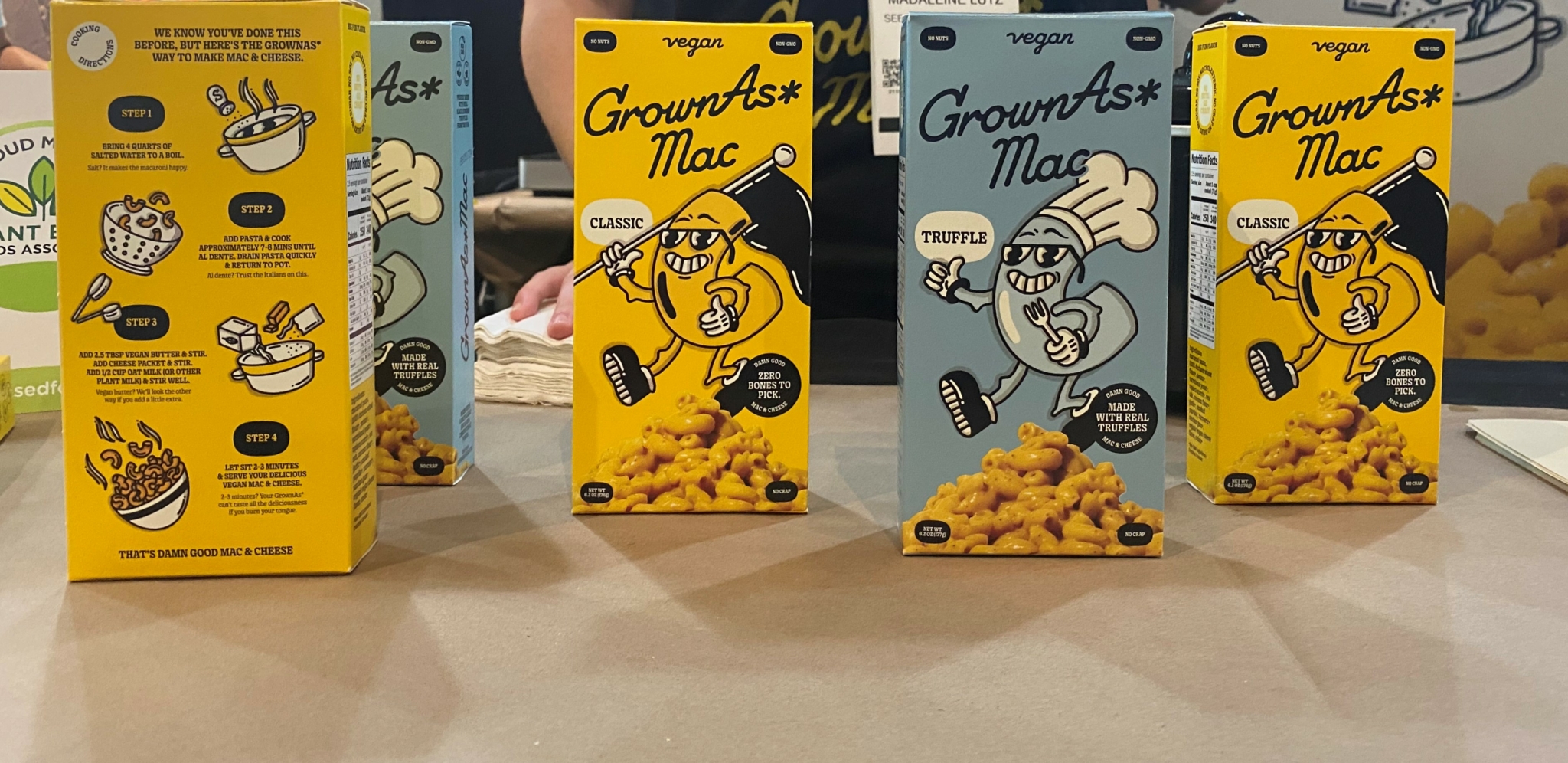 Have you ever been told by your grandmother that you should eat something because you look too skinny? Yeah, me too. Matzo Project brings you matzo chips with flavor and sass. The company took a food that is culturally consumed but commonly known lacked flavor and sprinkled it with a familiar voice. With sayings like "A good snack for the plane (if you ever came to visit)" and "A little spicy for me, but my Joshy loves them" this snack is sure to make you call your Nana just so she can remind you of how seldom you call her.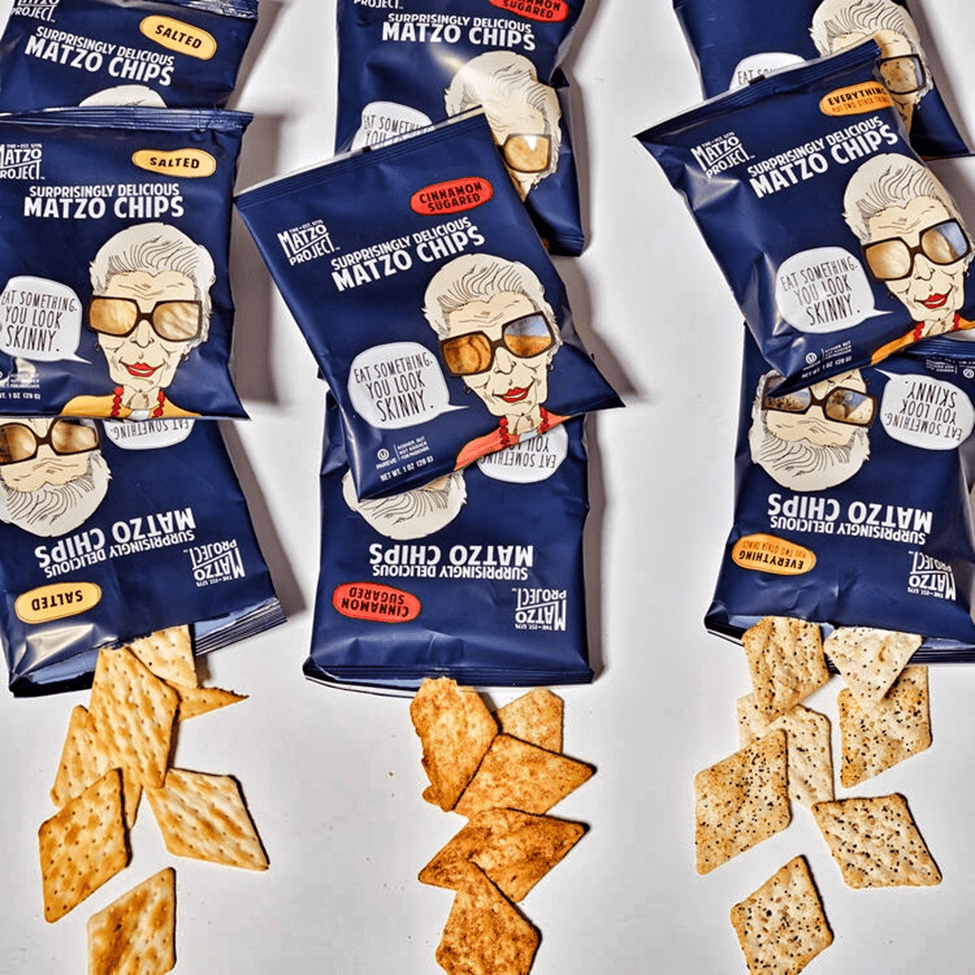 New Age Protein Skin Chip
The rise in high protein and low carb snacks has allowed for more innovative products to enter the market. Flock Foods is the maker of Flock chicken skin chips, a new alternative to the typical pork rind chips. Flock Chicken Chips has 13g of protein and 1g of carbs or less in each bag. They currently have a 6, "seasoned to perfect" flavors, offering a guilt-free swap for potato chips.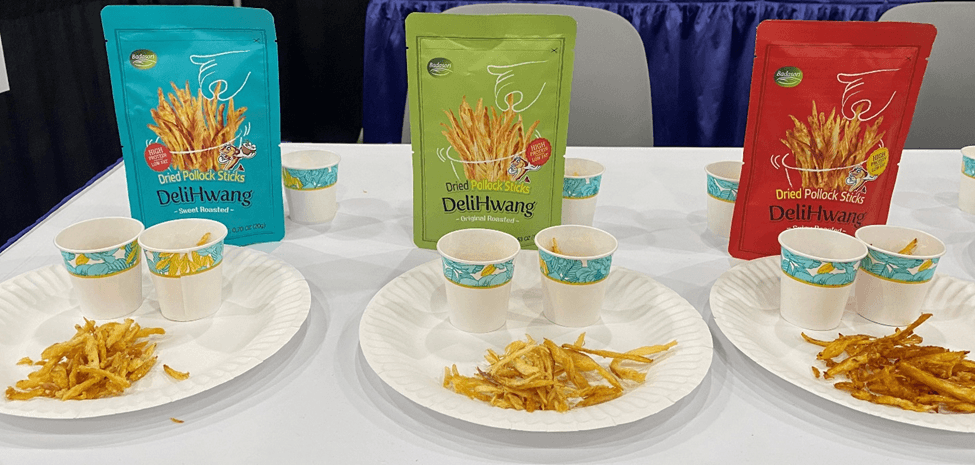 It doesn't stop at chicken skins; fish skins are also entering in the dried snack category. Deli Hwang is Korean snack company with a line of dried roasted pollock sticks. They display three of their flavors: sweet roasted, original roasted, and spicy roasted.
Hot Stuff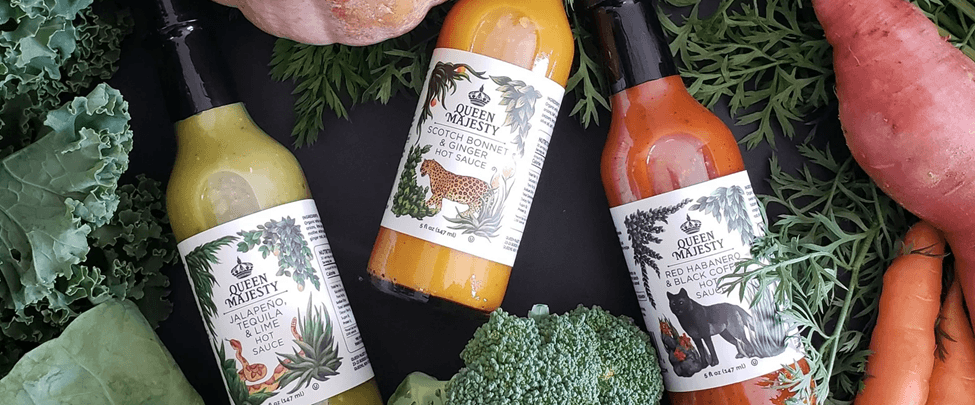 The pandemic trend of courageous consumer looking for more and exciting flavors, including experimenting with varying heat levels continues today. Check out our post on scotch bonnet pepper. Consumers are not afraid to move up the Scoville rating anymore. We saw several hot sauces companies, like Queen Majesty and Fynbos Fine Foods, offering scotch bonnet, habanero, and peri-peri hot sauces. We also saw a few emerging companies offering family culinary traditions in a jar, kimchi! Companies like Chi Kitchen and Lucky foods are bringing generations of family traditions to the market. Products like kimchi, kimchi hot sauce and kimchi mayo are sure to spice up pantries across America.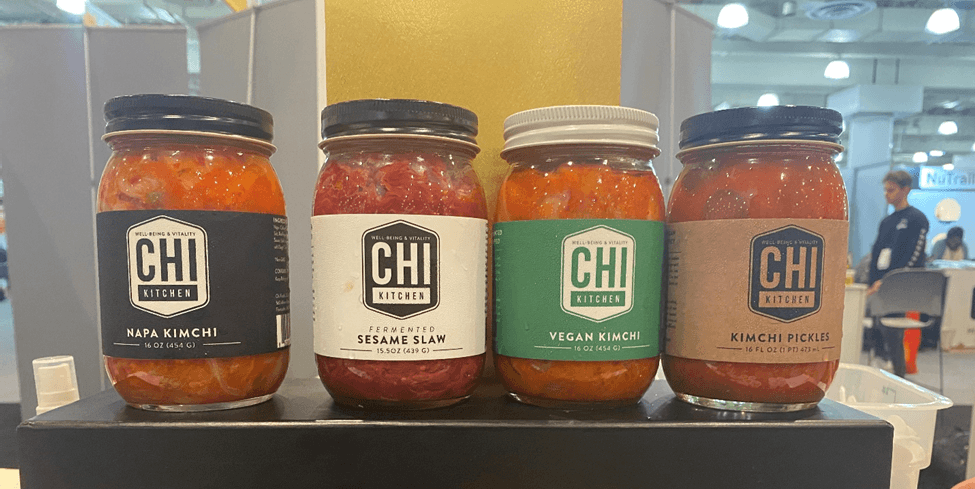 Twisting Traditions
Chili crunch oil, or chile crisp, is gaining popularity in recent years. Read more on the rise of chili crunch here. Traditionally used in Chinese cuisine, two emerging companies are adding a Latin twist to the mix. Chingona Salsa Macha and Don Chilio presented their versions of the crunchy and spicy condiment, adding a new experience to a centuries-old tradition.
Ginger is the New Turmeric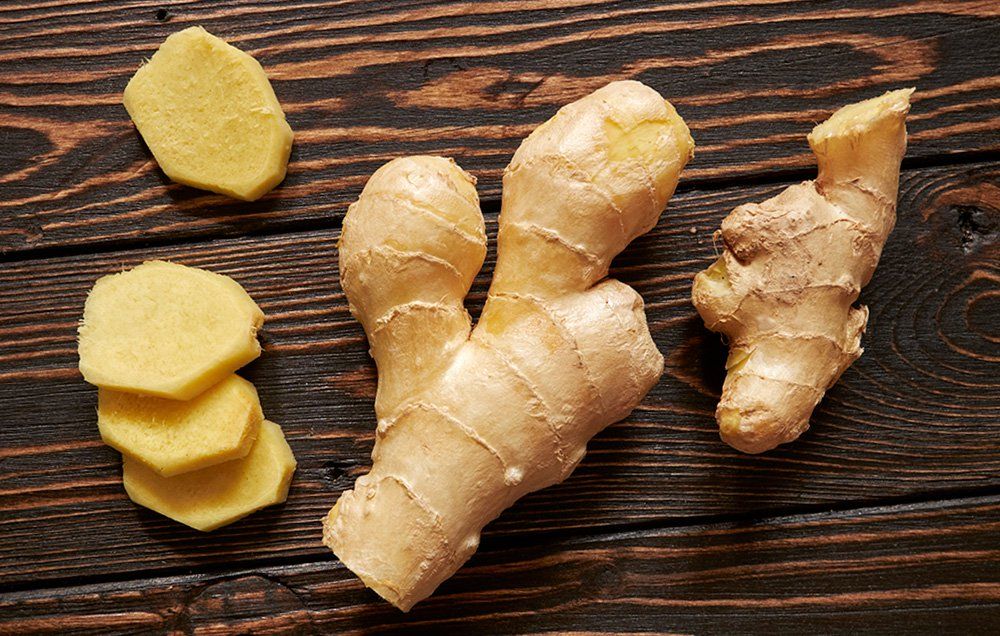 At the height of the pandemic, turmeric became the hot, functional ingredient for food and beverages companies. Items like lattes, cereals, tonics, and supplements were calling out turmeric as their main ingredient. It was a great marketing claim during a time where consumers were increasingly becoming aware of their immune system and how to care for it at home. Ginger made quite the appearance at the show this year.
Taste Good, Do Better
Now more than ever, better-for-you and the planet are being offered as a snacking alternative. Naturally imperfect foods that would have otherwise contributed to food waste is now being made into a delicious snack by Uglies, a snack company dedicated to reducing waste. Rhythm foods offer nutritional vegetable snacks that are ethically sourced for fresh ingredients. Root Foods is "redefining snacking" by bringing flavorful snacks sourced from small, sustainably local farmers.


Functional Snacking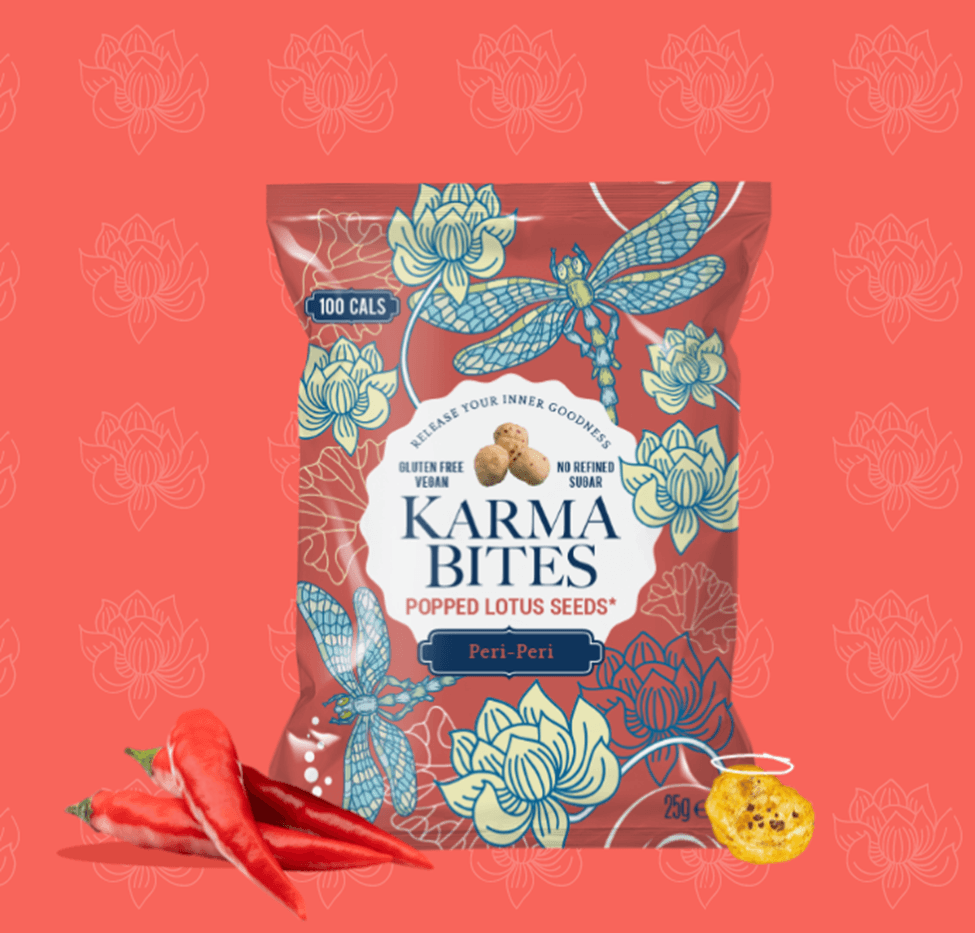 Similar to the snacking alternatives mentioned above, one functional ingredient that shined throughout the entire show was mushroom! Mushrooms are now being used functionally in teas, coffees, and dried snacks. Mush Garden and Popadelics are snack companies offering product lines of shiitake mushrooms as a savory and crispy snack. An alternative to chips we found particularly interesting was from the UK company, Karma Bites. Karma Bites has masterfully created a line of tasty, popped lotus seeds. We were pleasantly surprised its flavor and texture of this uncommon ingredient. They even had the popular peri-peri flavor profile as part of their product line.
Mixing up the Norm
Mocktails and immunity-boosting drinks also saw an increase in popularity during the pandemic, read more here. Hella Cocktail Co. created a line of Bitters & Soda that can be enjoyed alone as a non-alcoholic option or used as a base mixer. Their product line includes flavors like ginger & turmeric, naturally, and a classic Aperol spritz that are ready to drink. Sparkling water that is craft brewed, you read that right, is something new to come to market by Hoplark. Get "hoppy" with their line of hop tea, sparking water, and non-alcoholic beer.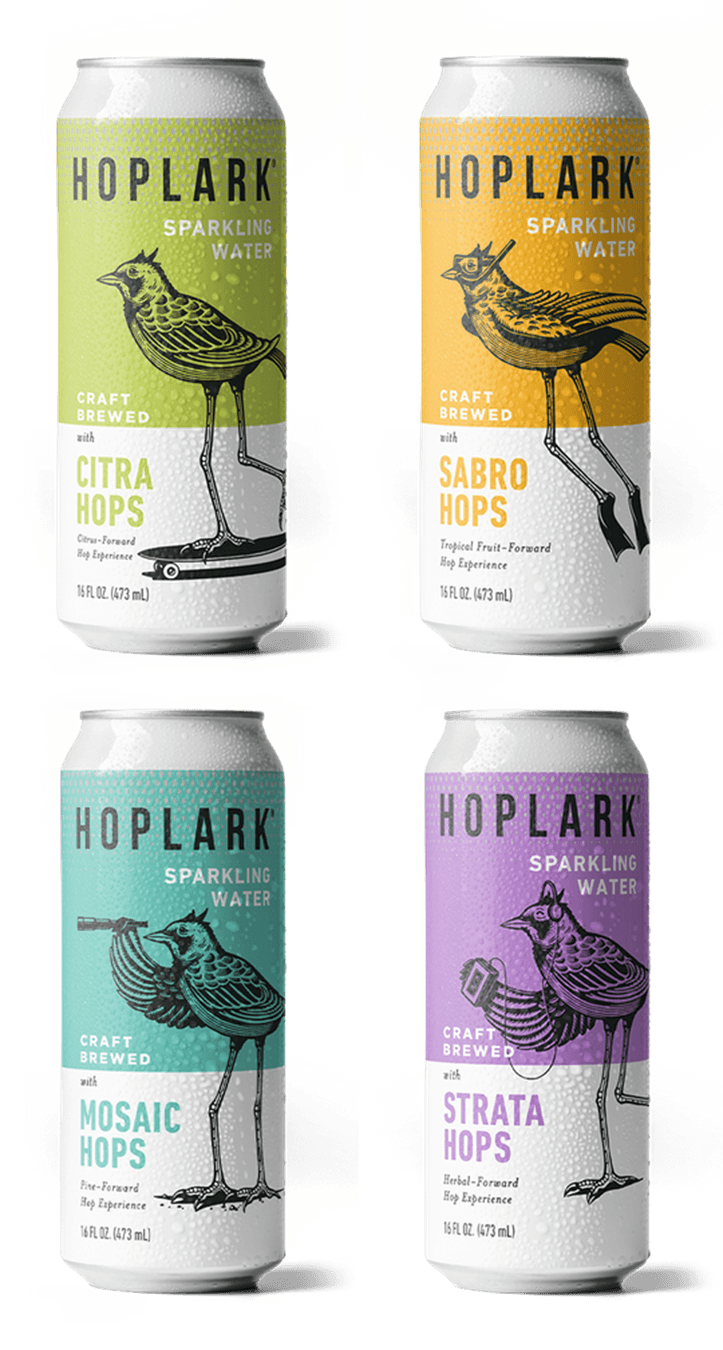 Other Notable Trends
An exhibitor at this year's show tapped into immunity-boosting trend in an innovative and easily consumable way. Mighty Gum Immunity is giving consumers fresh breath and vitamins in one in their chewing gum product. This functional chewing gum uses extracts from elderberry, Ashwagandha, Reishi mushrooms and is packed with immunity boosting vitamins.

Another trend we noticed was the marketing claim of companies crafting their product in small batches. It lends the idea that the product is artisanal, hand-crafted, and not made in a factory. Consumers seek food companies with a human touch. They want to ensure that they are feeding themselves or their families by a company they can trust.
Share your thoughts with us on these trends on our Facebook and Linkedin Page!