A continuation in our Indian-inspired recipe series, highlighting amchur (mango) powder. Read all about this fruity spice here.
There are many types of fritters, or Pakoras, that you can prepare at home. You can make potato fritters, aka Aloo Pakora, Paneer Pakora, Spinach Fritters, or Palak Pakoda, or Onion Pakora. It is quite hard to say which one is the best but, all of them bring something different. So, it all depends on your personal preference. Usually, Onion Pakoras, Bread Pakoras, and Paneer Pakoras are quite popular. However, if you are a little unconventional then you may want to try Chili Pakoras or Chili Fritters. Cauliflower or Gobi aka Gobhi in the Hindi language.

A wide variety of fried cauliflower dishes are found in India. Cauliflower pakoras, battered and spiced fried cauliflower, are popular in North India and Chennai, and may be double fried for crispness. They can be served with a tomato or peanut chutney. One Punjabi recipe deep-fries the cauliflower first, then sautés it in spices and yogurt to nap the florets with sauce.
Cauliflower is a man-made food. It belongs to the group of vegetables – together with, for example, kohlrabi, broccoli, and Brussels sprouts – that have branched off from wild mustard and belong to the Brassica oleracea family which originated on the island of Cyprus. Humans began to make cauliflower back in ancient Rome. Farmers selected mustard plants with especially big flowers and mated them together, which resulted in cauliflower and broccoli.
Cauliflower's first mention in writing is found in the first century in the Natural History, a book of Pliny the Elder, a Roman naturalist and philosopher. It took until the 12th and 13th centuries until this vegetable was introduced to Western Europe, and it only became a regular food staple in the 16th century.
In 2016, the global production of cauliflowers (combined for production reports with broccoli) was 25.2 million tons, led by China and India which, combined, had 73% of the world total.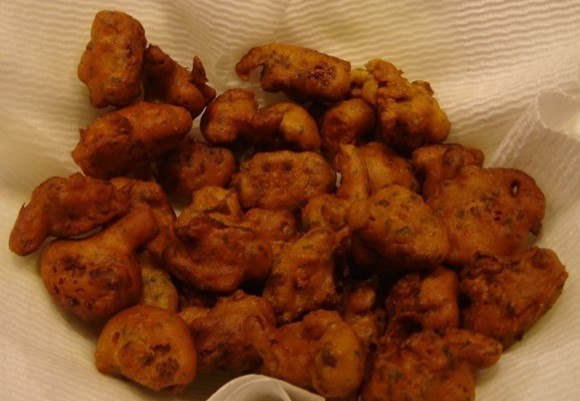 Cauliflower Fritters – Gobi Pakora
This recipe is from Williams – Sonoma Savoring India (April 2002). I modified this recipe to use cauliflower instead of chicken.
Ingredients
⅞

cup

Chickpea (garbanzo bean) flour

⅛

cup

Rice flour

½

tsp

Garam Masala

½

tsp

Amchur (mango) powder

½

tsp

Baking powder

¼

tsp

Ground turmeric

¼

tsp

Black pepper

¼

tsp

Fresh thyme

or 1/8 tsp ajowan seeds

1

Fresh hot green chili (serrano)

finely chopped

¾

tsp

Salt

⅔

cup

Hot water

¼

cup

Fresh cilantro

chopped

Peanut oil

for frying

½

Head cauliflower

Preferred mango chutney
Instructions
Mix the batter, everything except the cilantro, peanut oil, and cauliflower until smooth.

Add the cilantro and mix. Add extra water to give a thick batter if needed.

Heat one inch of peanut oil to 375⁰ F.

Dip the cauliflower in the batter and fry about 5 pieces at a time for 6 minutes. Do not crowd the pan!

Drain on a wire rack and keep warm in the oven.

Serve with chutney or other dipping sauce. Makes about 40 fritters.