Last Thursday, the Jacob Javits Center in New York City hosted the Plant-Based World Conference and Expo. This is the only 100% plant-based event for food innovation professionals in North America. If you didn't make it and were curious to know what is trending in plant-based CPGs, the Spice Girl walked the floors and tried all the new plant-based products just for you! Read the full scoop below: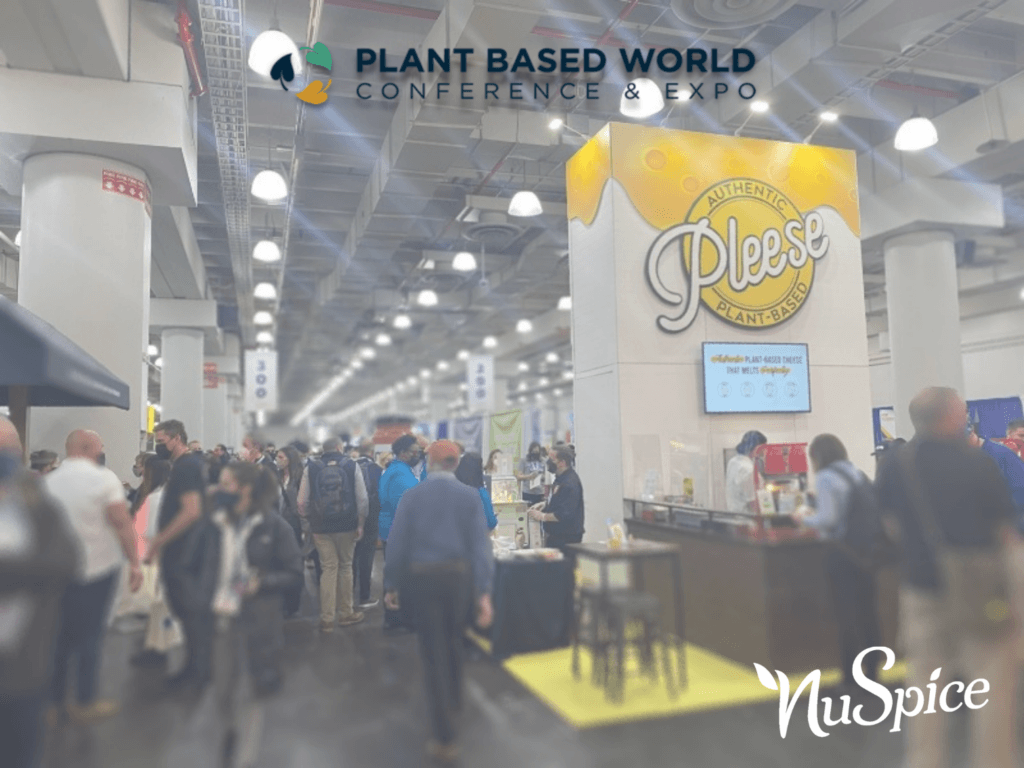 Spicing it Up!
In the early days of vegan analogue systems for animal protein alternatives, the focus was on emulating a meat-like mouthfeel and bite, not so much the flavor. Most companies that were emerging were creating original-flavored burgers, sausages, and deli meats – this does not include veggie burgers [more on this below]. I was pleased to see the innovation to include familiar and global flavor profiles.
More Foods Innotech Co., Ltd., a vegan company based in Thailand, has a product line of RTE foods using splitgill mushroom and soy as their main ingredients. Their product line includes frozen food items like tom yum and lard tord bites, as well as their Krakow seasoned minced meat-alternative. Thai food is so flavorful, and we just had to try their tom yum bites – and they were delicious! We wish them luck as they enter the American market.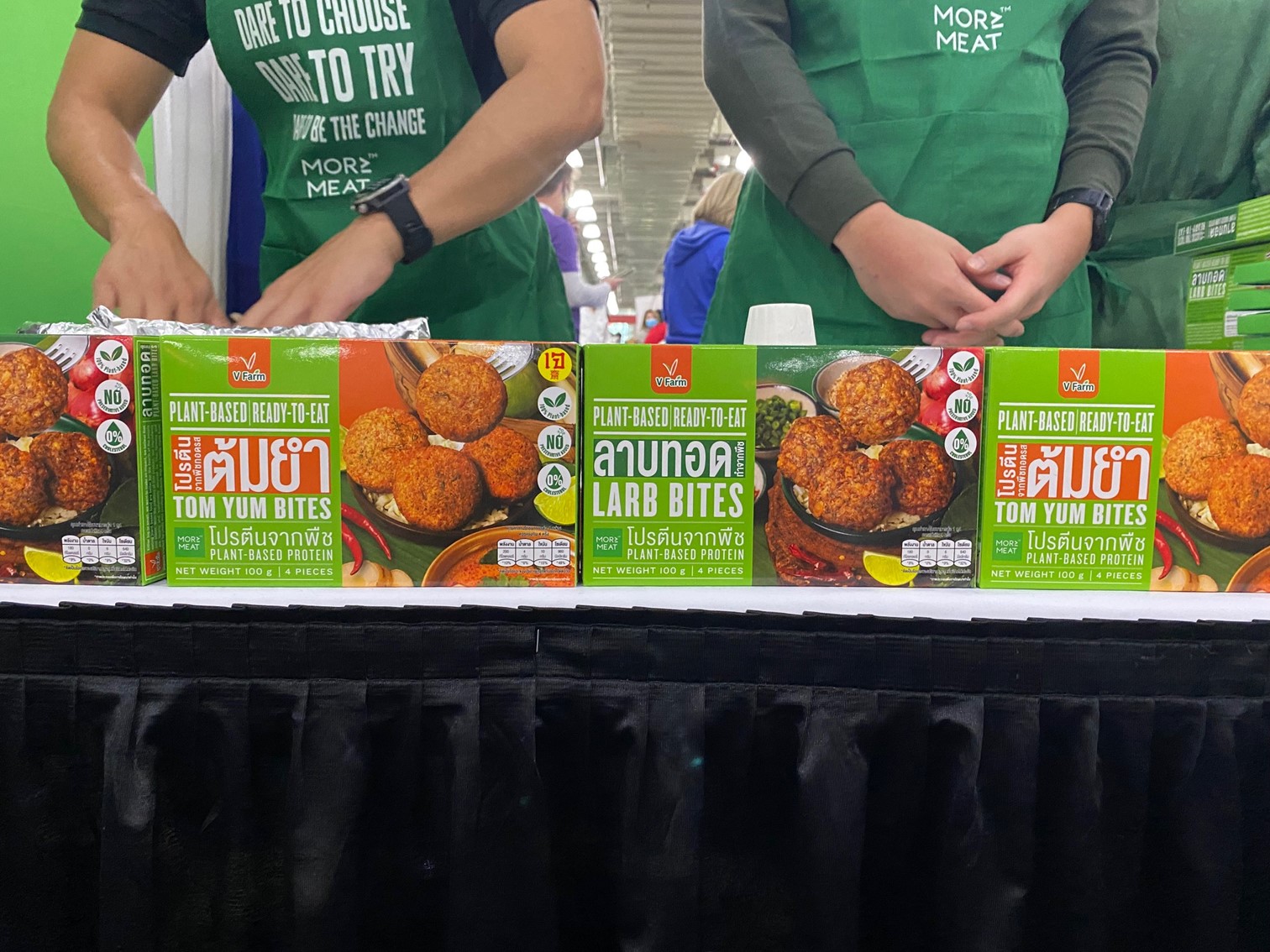 A company with a background in meat snacks and sausages is now expanding its product line with a plant-based salami snack stick. Based out of Poland, Tarczynski created this line extension as an alternative source of protein for vegetarians, flexitarians, and "above all for meat lovers". This line has three flavors: original, 3-Seeds, and a very trendy spice, Piri Piri. Our eyes widened as we walked past their booth; the Piri Piri was so tempting. We were impressed they included this spicy blend in their line.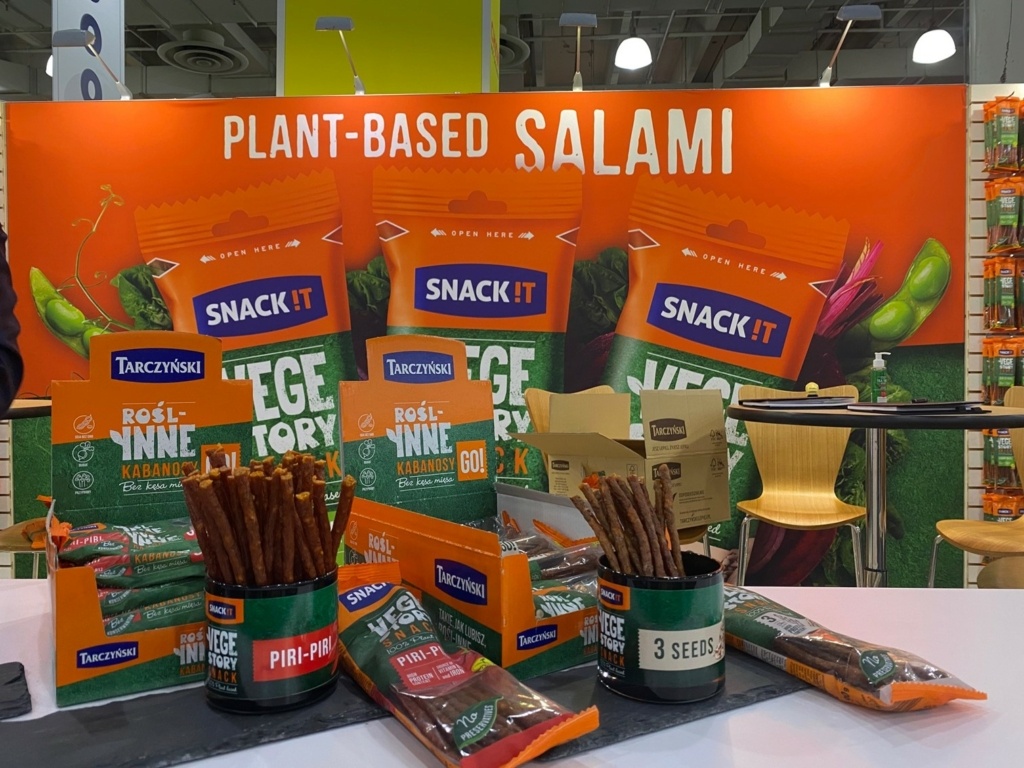 Swahili for pepper, piri piri heat comes from the Birdseye chili. Consumers today are more open to experimenting and tasting heat from around the world. Piri Piri spice is increasing in popularity.
I love the exploration consumers have had lately in emerging spices and flavors. It's allowed a variety of CPG companies to showcase their take on ethnic flavors and foods. BeanVivo Organics is one of those, combining traceability with great flavors that are regionally centric to numerous places across the globe.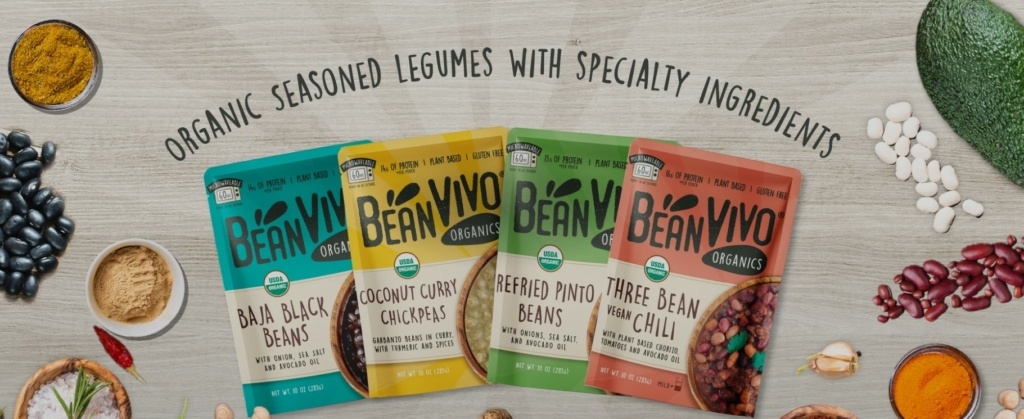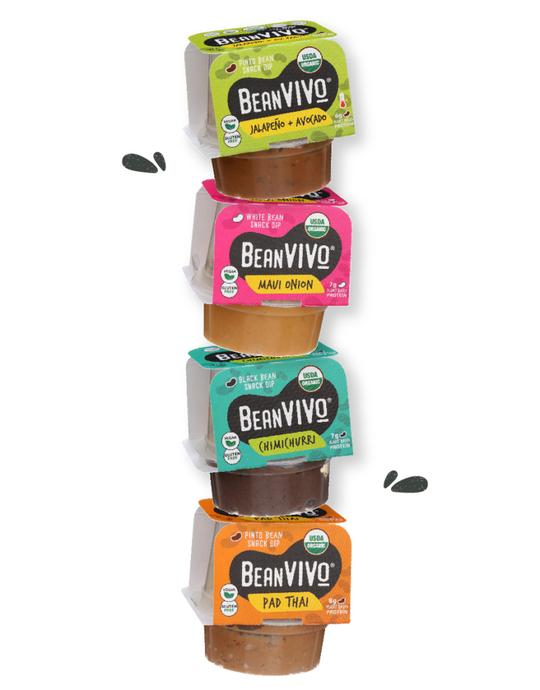 BeanVIVO Oraganics also have a line extension of dips with more global flavors such as jalapeno + avocado, Maui onion, chimichurri, and pad Thai.
Now more than ever, consumers are paying attention to where their food is sourced from and what's in it; whether it's Fair Trade, more environmentally sustainable, or just nostalgic. Their product line specializes in bean-based products which include coconut curry chickpeas & Baja black beans!
Bringing Home the Bacon
There is an array of vegan companies to choose from when it comes to burgers, sausages, and chicken alternatives but where's the bacon? While some vegan and vegetarian consumers use tempeh as a bacon substitute, it doesn't quite match the flavor or texture of bacon. Back in September, we tasted our first bacon alternative by Hooray Foods. Though their product line has one flavor, it had a great crisp and was quite tasty.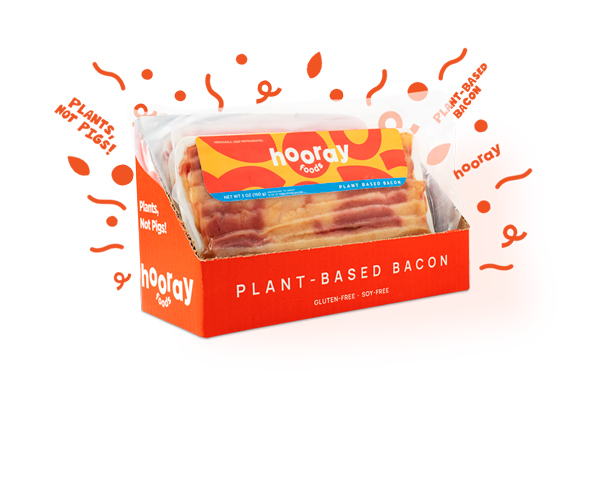 Hooray Foods sold well in the States and have expanded to the Canadian market.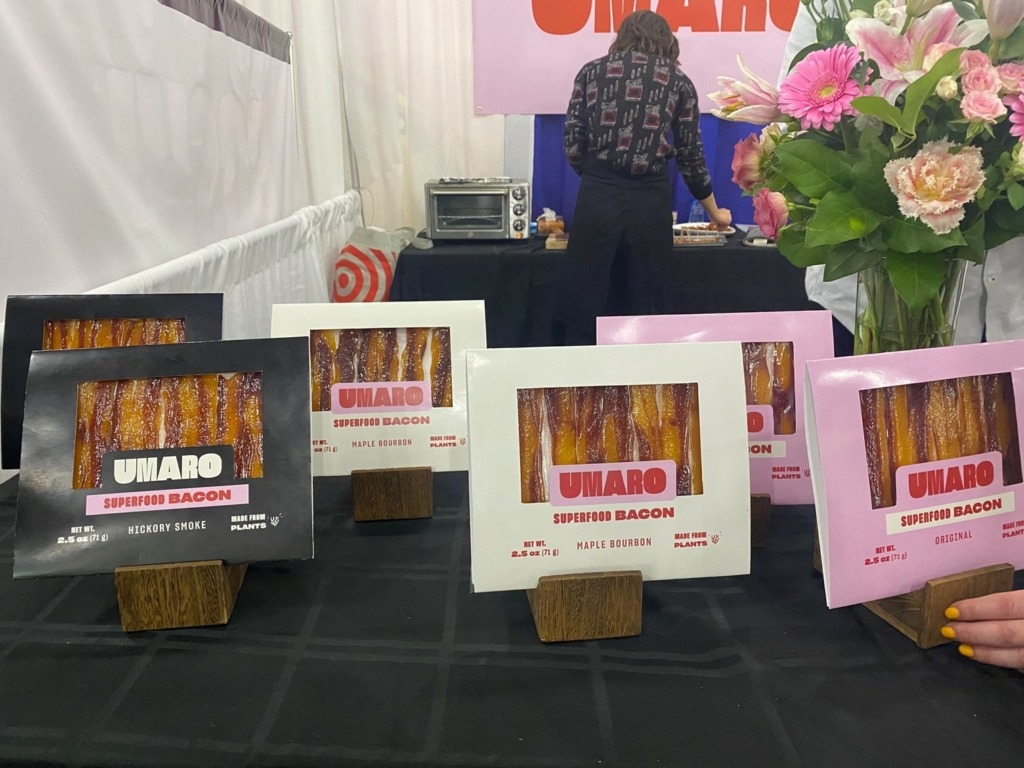 At the Plant-Based World Expo, we noticed a company making vegan bacon from seaweed. As they like to put it, it's superfood bacon. Umaro Superfood Bacon holds all the essential amino acids seaweed has to offer and comes in classic bacon flavors like maple bourbon and hickory smoke.
Swimming with the Competition
Plant-based burgers have been around for decades. It was first brought to market as a veggie burger in the early 1980s and then popularized in the 1990s by brands Gardenburger and Boca Burger. Mainly created for vegetarians, there were no incentives to make it meat-like. It wasn't until 2009 that we saw the first pea protein-based burger by BeyondMeat. Now, there seems to be a constant race for more vegan alternatives, most recently the dairy and chicken alternatives. At this year's show, it's now seafood alternatives that are gaining traction.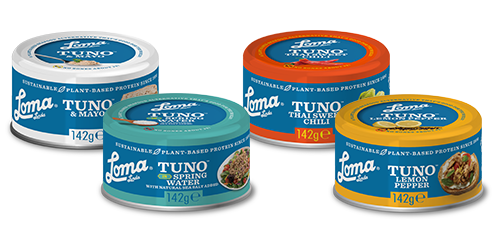 Atlantic Natural Foods' brand, Loma, has come out with a line of plant-based tuna called Tuno. The flavors include original spring water, spicy sriracha, and lemon pepper.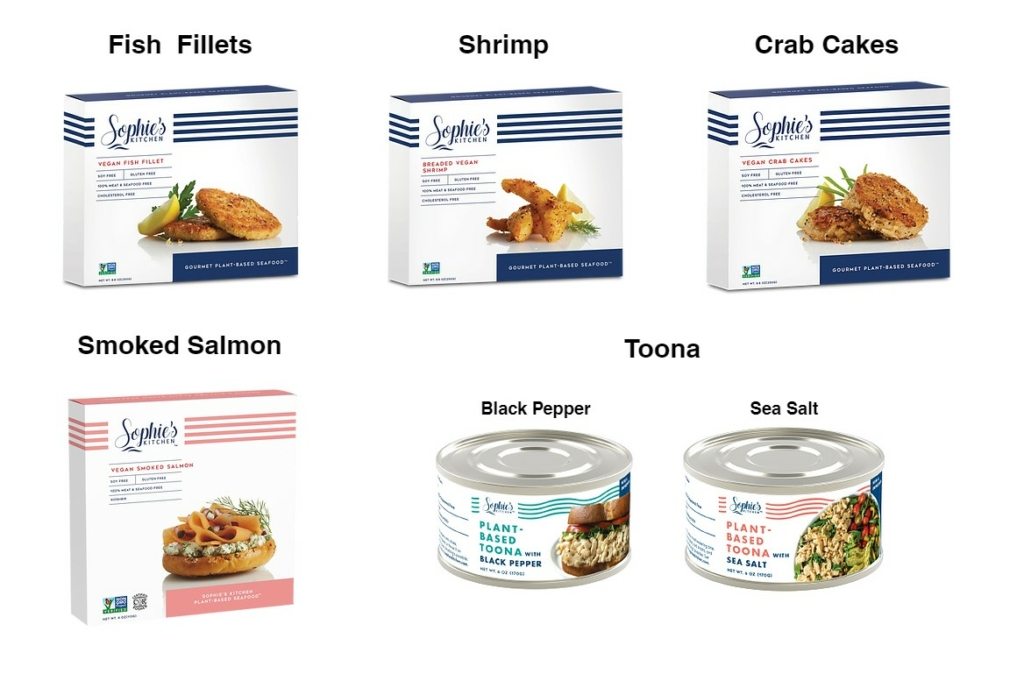 Sophie's Kitchen also has a plant-based tuna line that they've labeled as "Toona". Their line includes plant-based breaded shrimp, fish filets, crab cakes, and smoked salmon.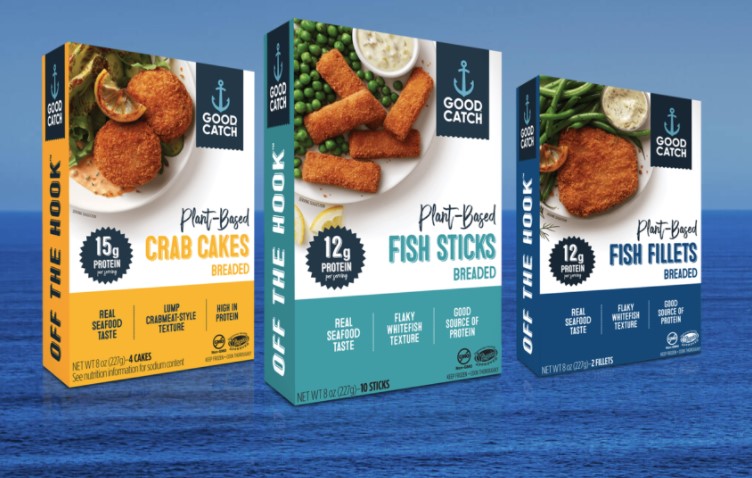 While this start-up did not make an appearance at this year's Plant-based World Expo, it has received nearly $45 million in funding. Good Catch Foods has a line of frozen entrees and apps that include, fish sticks, filets, and burgers, and crab cakes. It also has a line extension of plant-based tuna. Their tuna flavors include original "naked in water", a Mediterranean profile, and oil & herbs.
Will these alternative seafood products be considered a good catch for consumers? We'll just have to wait and sea.
Less is More

The better-for-you trend is driving companies to create flavorful, yet simple products made with whole ingredients. Let's face it, a lot of the meat alternatives are highly processed and often contain high sodium levels. There is still a huge demand for those types of products because well, salt does make food taste good. However, for the more health-conscious consumer, an alternative to the alternative seems to be the new wave in plant-based innovation.
The Actual Burger is taking it back to the beginning of plant-based burgers with its line of reimagined veggie burgers. As mentioned before, the veggie burgers were one of the, if not the, first plant-based burgers to exist in the retail market. These burgers are naturally colored with ingredients like beets, carrots, kale, and black beans. It also serves as an alternative to those who wish to avoid vegan burgers with soy or pea protein.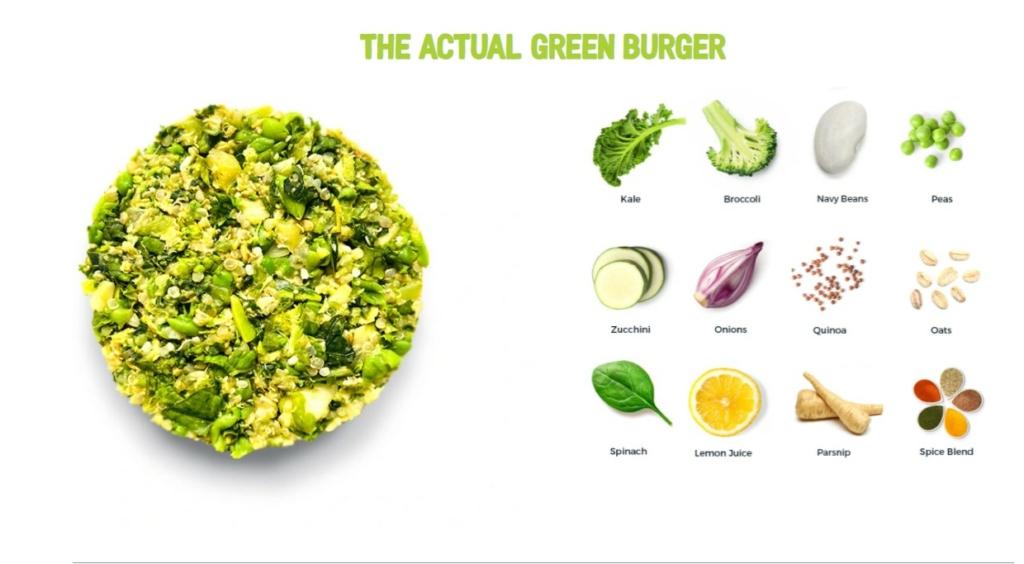 A look at what goes into veggie burgers made by The Actual Burger. Each patty is a thick cut, 1/4 pound burger filled with whole plant-based ingredients.

It's amazing to see the innovation in protein alternatives that's available in the market now. The latest is pulled oats! Gold & Green, a Finnish-based company, uses a simple ingredient list, as well. It includes oats, fava bean, pea protein, oil, and salt. Their 'nuggets' are similar in texture and function to a textured soy protein pellet.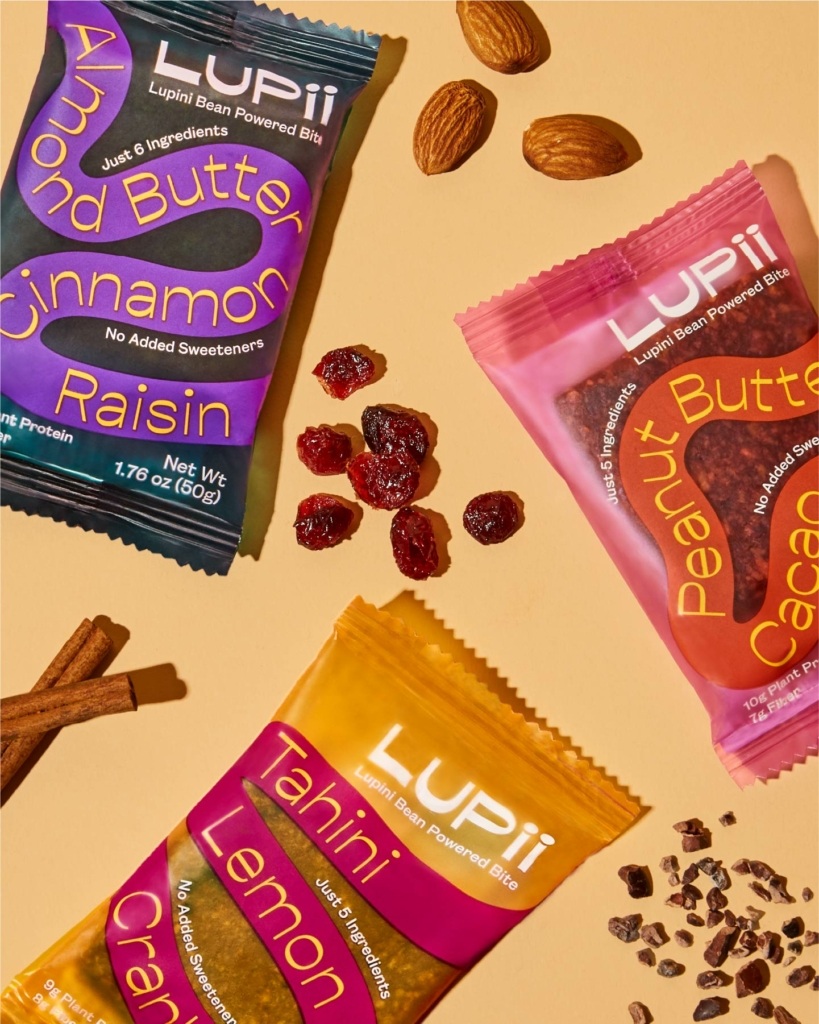 "Whole food ingredients and a whole lotta flavor," is this company's motto. Lupii is a protein bar that is made with no more than six simple ingredients and powered by lupini beans and dates.
Their product line currently has 4 flavor profiles: peanut butter & cacao nibs, almond butter and cinnamon raisin, tahini lemon cranberry, and cashew ginger pumpkin seed.
Lupii bars have a nice chewy texture that is not as tough as similar bars like RX bars – a company that also has a product line of protein bars made with minimal ingredients, including dates. Their tahini lemon cranberry bars were quite inviting.
This next product, unlike the others mentioned thus far, is a plant-based tonic. One would think tonics are naturally plant-based since their main ingredient, aside from the carbonated water, is quinine – a natural alkaloid. However, tonics are often sweetened with honey. Goldthread's plant-based tonics are sweetened with the ever-growing trend of monk fruit extract. Each flavor is packed with a proprietary herb blend and adaptogens. With the rise in popularity for homemade mocktails, the better-for-you and immunity-boosting trend we saw take life last year are spilling over into this year and next!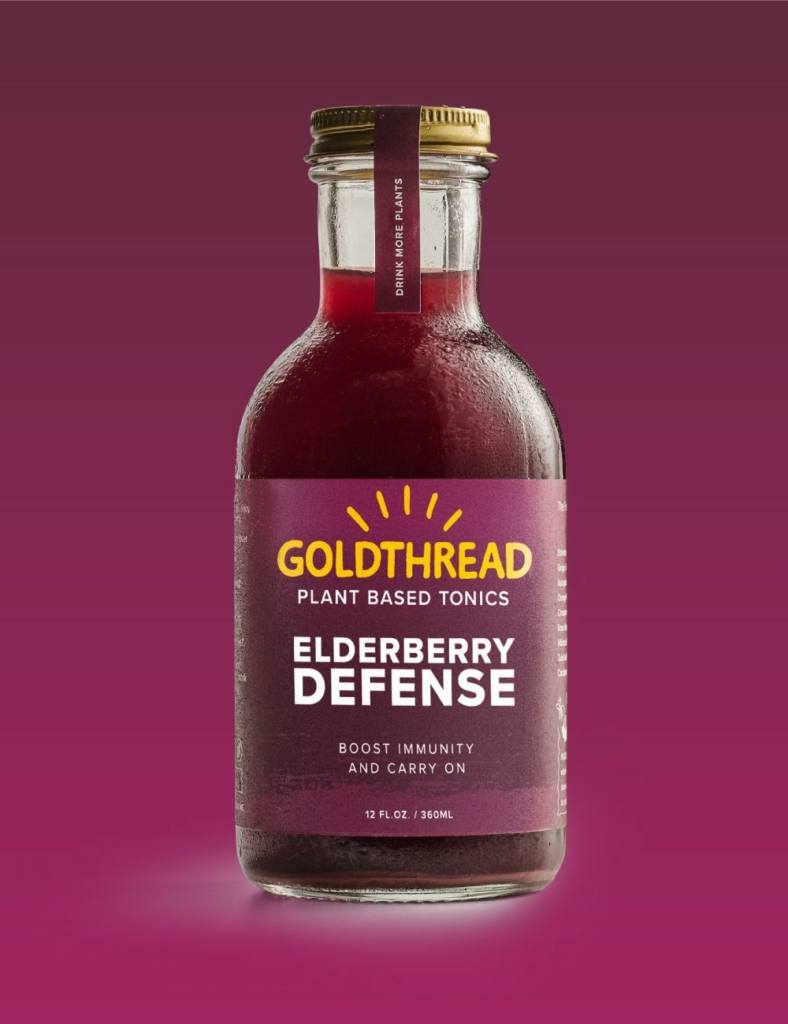 Oh, to be Allergen-free

The latest trend to take shape in plant-based innovation is allergen-free products. At this year's show, a woman-owned company, Big Mountain Foods, debuted their original chickpea tofu, The Super Food Fava Tofu. Big Mountain Foods also has an extensive product line that includes links, grounds, and crumbles, bites, and patties. Even the Hooray Foods Bacon we mentioned earlier has label claims that include soy-free and gluten-free. We see this trend continuing as more plant-based start-ups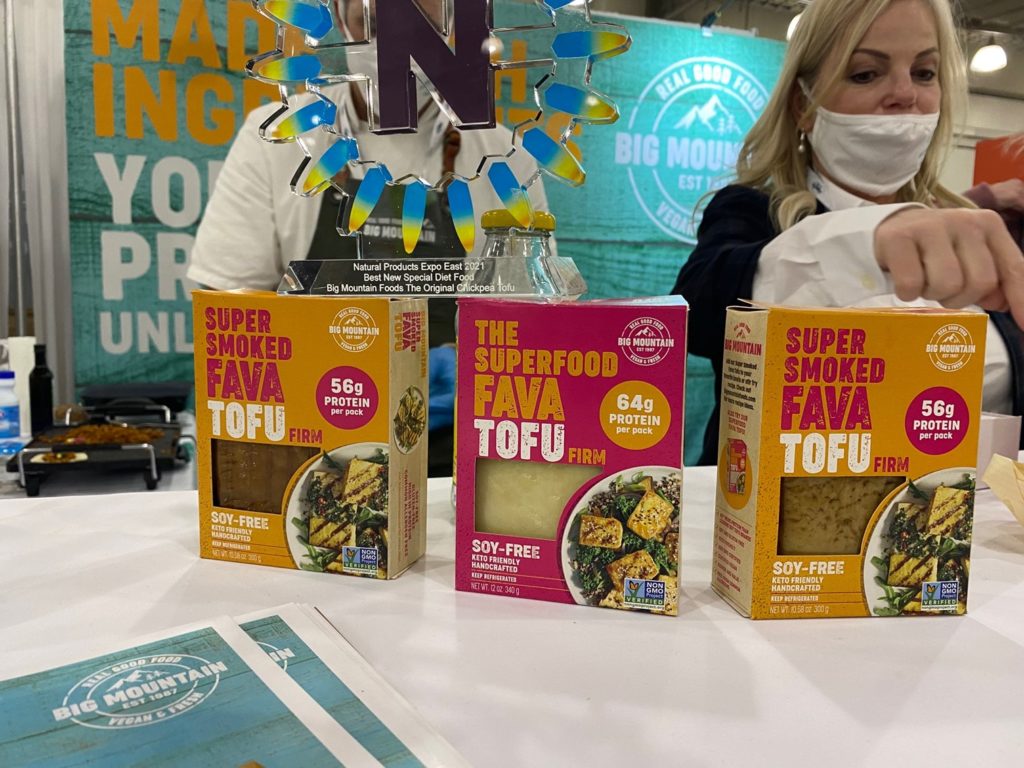 Big Mountain Foods won a Nexty Award this year for Best New Special Diet Food. There are two flavors, original and smoked tofu.
Impressive Tech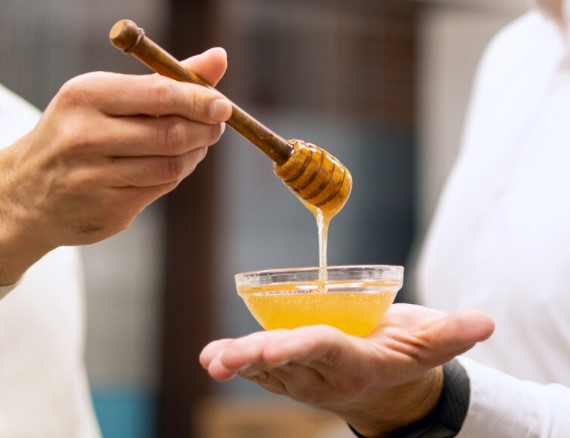 Though it was a small show, taking one's time to walk the floor is essential. Booths are varying in size and some are just small stands that can be easily missed. The founder and CEO of MeliBio was presenting alone behind a small stand but his product can have a big impact on those who want to save our planet.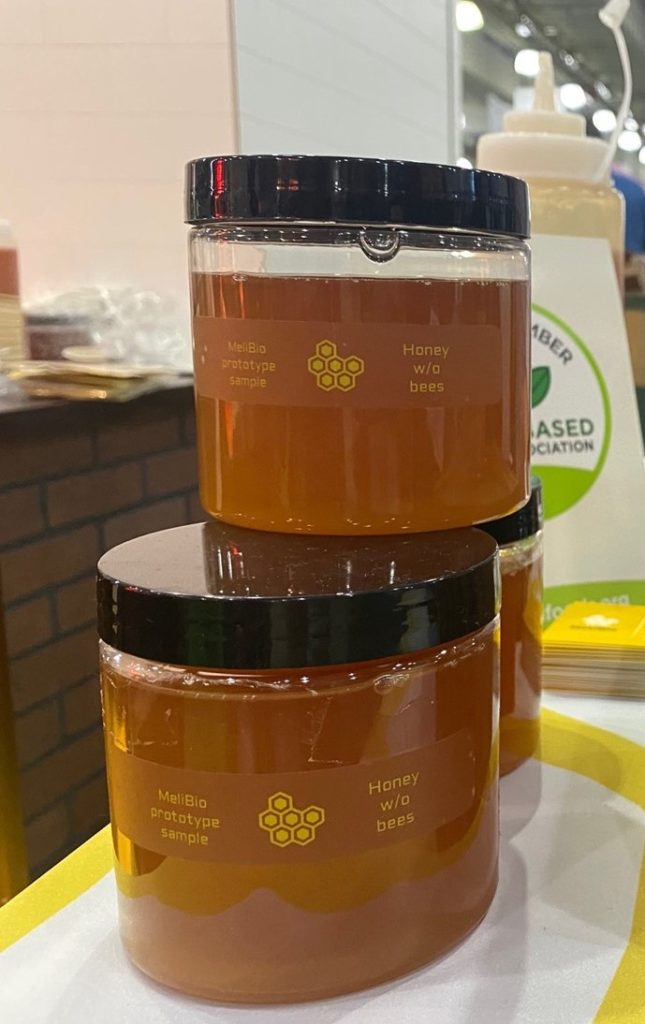 Calirfornia-based startup Melibio is making "real honey without bees". Its proprietary technology is taking bees out of the supply chain, as they are often exploited in commercial honey production.
Based out of California, Melibio has created the first-of-its-kind vegan honey. That's right, vegan honey, and boy, was it creating some buzz. The consistency and taste were shockingly close to honey. This is a great sustainable and plant-based company to get behind.

Another impressive company was CanFITU. CanFITU is a food supplement-enhanced chocolate company based out of Seattle. These are not superfood chocolates. You can think of them as taking your vitamins for the day in a chocolate tablet. CanFITU specifically crafts each candy based on the DNA and microbiome of the individual, taking delicious and nutritious to a new level. Move over generic gummy vitamins and hello Jessica-specific chocolates!
Good luck to all those who exhibited this year!