Two years ago, it felt as though this pandemic would loom over us for what felt like forever. Today, COVID-19 seems to be on its way out since restrictions and mandates are being lifted and spring is in the air! The world was at a standstill for some time, and it affected the ways we experienced our daily lives. Especially the way we experienced food and our inability to travel.
Gone were the days when we would sit at a table and feel invigorated over the smell of something deliciously enticing. No more giving googly-eyes to your server as they walked your meal over to you. The spontaneity of trying a new dish or restaurant – gone. Did you like to travel and explore cultures through food? Had plans to checkout a new travel destination? You probably said goodbye to those, too. Inspiration and experience are energized by food, travel and discovery.
The manufactured goods we consume are a direct result of inspiration coming from food product developers, whereas culinarians draw on their inspiration from everything around them. We wanted to keep this lust for flavor inspiration alive and thus NuSpice's Sausage of the Month Club was born. Our goal was to bring a 'sock-of-the-month'-style journey to our 'club members' taste-buds for an entire year.
Each month we designed, developed and crafted artisanal hand-made sausages, delivering bold and innovative flavors. To simulate those dopamine-like feelings we get when we eat food, we created a theme for each month for a truly unique experience every time a kit was opened.
Kicking off the (Chinese) New Year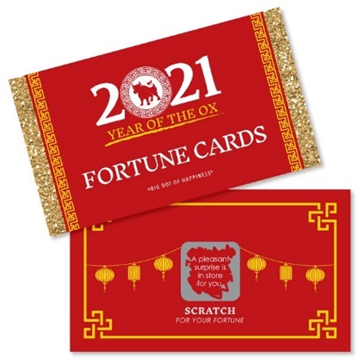 Sausage of the Month kicked off in February of 2021 with our Chinese Red Spare Rib Sausage. We joined in on the Chinese New Year celebrations by sending our members a Year of the Ox Fortune Scratch Off card, a take on the traditional red envelope. We knew that Asian BBQ flavors were at the forefront of innovations and wanted to showcase our take on the sweet and savory take-out dish. Our version on the take-out fan favorite, Chinese Red Spare Rib Sausage (X14316-V2) lays beautifully on bao buns, topped with pickled radishes and Asian broccoli slaw for the first recipe of the year.
Springing Forward
Next up was our take on the growing trend of the flexitarian diet with our Garden Harvest Chicken Sausage (X13584-V2). Since March is the start of spring, our Research & Development team took to the fields to gather up delectable vegetables for this delicious and nutritious meal in one. Made up of 50% chicken and a mixture of quinoa and vegetables, our March SOM paired well in a bowl of minestrone soup for featured recipe.
Piggybacking off of the theme of Spring, April's feature sausage played on the symbolization of new beginnings and rebirth. April of 2021 held two significate holidays – Passover and Easter, both of which lamb is a traditional meal.
As consumers became more comfortable revisiting the lost art of wild game, we felt April's Sesame and Anise Lamb Sausage (X13446-V2) was a perfect way to showcase not only wild game but also global cuisine. Check out our recipe for the Anise Sesame Lamb Sausage Stir Fry by clicking the above image.
Sun's Out, Fun's Out: The Flavors of Summer
We now enter the warmer months, where the goal is to gather around outdoors, slap some meat on a grill and take in those smokey smells of summer. While May may not be technically summer, the ultimate Summer kick-off is Memorial Day! Since this was obviously a challenge during the pandemic, we wanted to mimic those flavors and bring the festivities to our members.
It should be no shock to what May's theme was – Cinco de Mayo! Global cuisines and vibrant colored foods are all over social media, it was only fitting to jump on the trend with our Chipotle Chicken Sausage (X13676-V2), served on corn tostadas for this month's featured recipe.
June's and July's SOM were all about big bold grilling flavors. June's Texas Style BBQ Brisket Sausage was slow-cooked to tenderness and infused with freshly ground coffee to seal in those flavors before being frozen. July featured a new spin to a classic American – the prime rib. This large cut of meat was revitalized in our Prime Rib Steakhouse Sausage crostini recipe. For August's feature, we revisited a street food staple – Gyro Lamb Sausage. Instead of nestling this savory Mediterranean classic in between warm pita, we decided to this hand-held food into a grazing board. 2021 was a year of charcuterie everything boards. I know you saw those breakfast, taco, dessert, and even fast-food boards all over social media.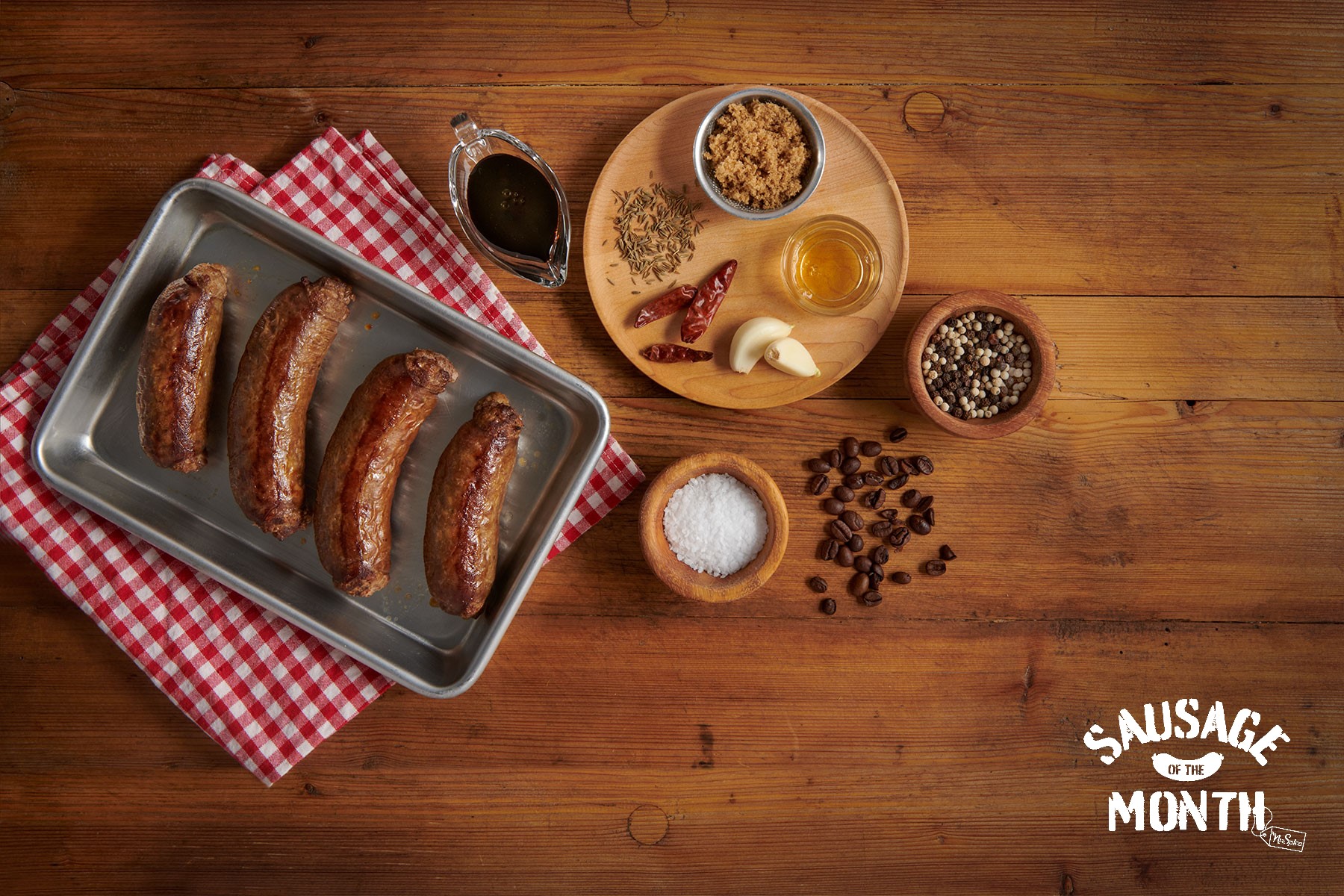 Falling into Flavors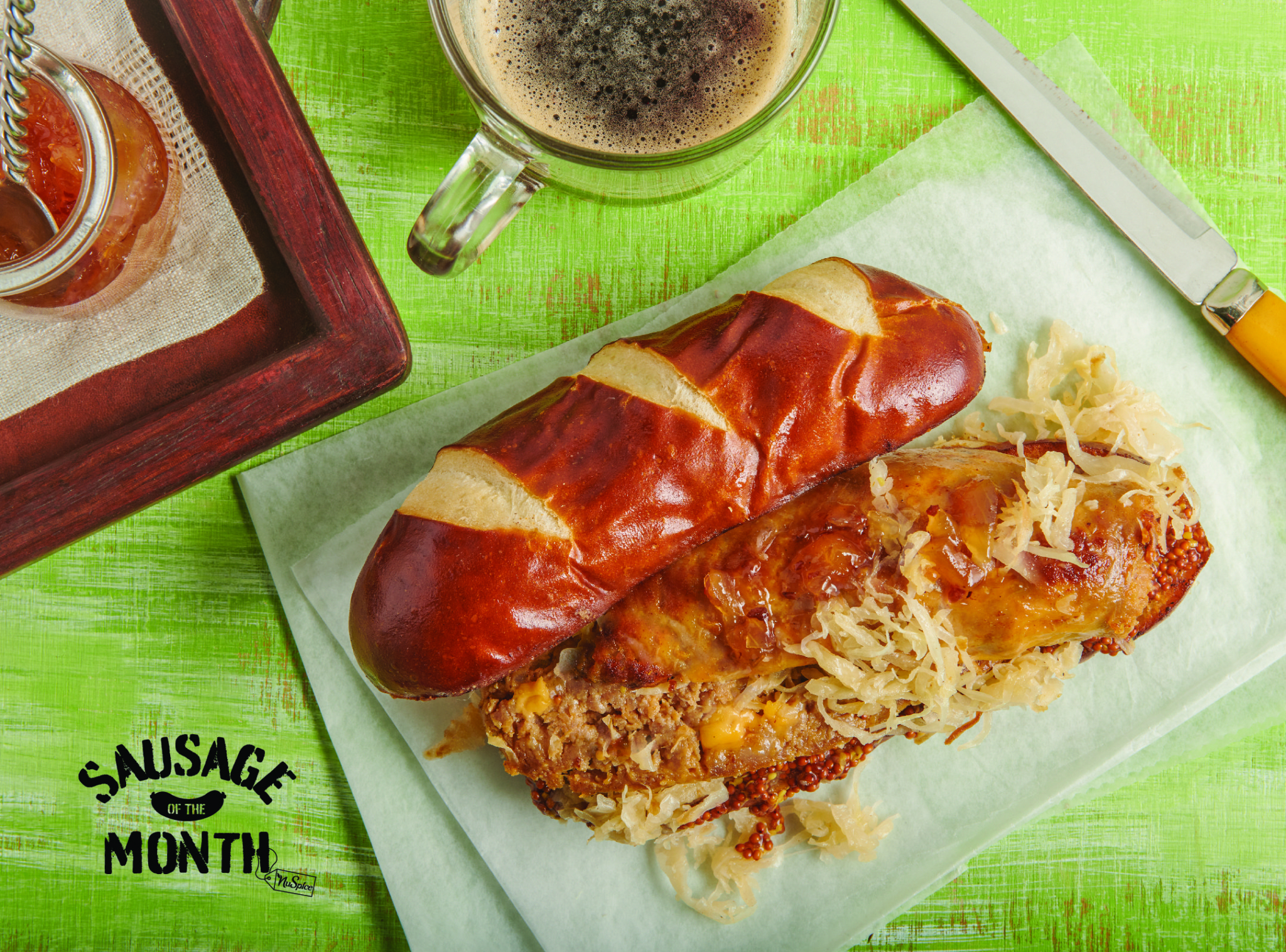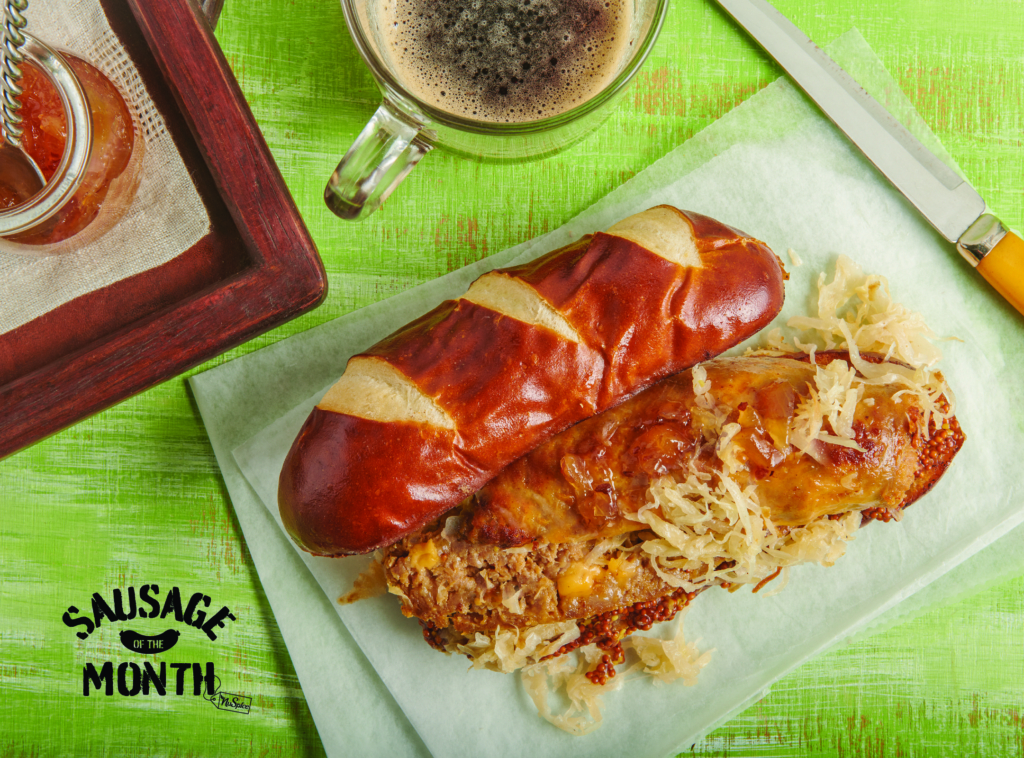 Our Sausage of the Month Club would not be complete with shouting out the mecca of sausages – Germany. The annual two-week festivity of Oktoberfest begins in September and is held in Munich, Germany. Germany has an estimated 1,500 variations of sausages: each having its own preparation style. For September, we wanted to incorporate the flavors of culture that surrounds Oktoberfest and crafted the Beer Cheese Style Sausage.
Switching gears from Oktoberfest to the month of October, our focus was on an established Fall flavor profile – pumpkin spice. Warm spices, like nutmeg and cinnamon, can trigger nostalgic feelings because of its comforting smells. October's Pumpkin Turkey Sausage (X13486-V2) was our way of emulating those fond memories through the innovations in featured sausage and trinket – pumpkin spiced popcorn!
Sprinkling Flavor Over the Holiday Season
We kick off the holiday season with a nostalgic full flavored Thanksgiving Sausage for November's feature. Thanksgiving dinners are overwhelming, there are so many sides dishes to cook, or make room for if you're lucky enough to be a just a guest. With that thought in mind and most families no longer being able to gather around, we brought a NuSpice Thanksgiving (X13438-V4) directly to our members. Yum!

Given our history so far of tying in the month's theme with its corresponding holiday, you are probably thinking December's Sausage of the Month is Christmas or Hanukkah related, right? As appetizing as those flavors sound, we decided to highlight how today's foods are naturally colored using just plants! Consumers are looking for cleaner alternatives when it comes to the goods they purchase. We noticed how viral vibrant colored foods are on social media platforms, as well as the rising trend of ancestral cooking – regional traditional dishes that are rooted in basic ingredients, think of dishes your grandmother would make. Say hello to our spin on the traditional Ukrainian comfort soup – December's Beef Borscht Sausage (X13436-V2)!
If December didn't throw you off from being on trend with tying in the theme to the corresponding holiday, January is sure to make you say "wait, what?!". For our final Sausage of the Month and the first of 2022 – we introduced our first vegan sausage! Crazy, I know. January's Vegan Serrano Yuzu Patties (X13420-V3) featuring NuSpice's own vegan fat system (X13908-V2) was our innovative take on the ongoing plant-based alternative that doesn't seem to be dying down anytime soon.
Since we all make resolutions to live a healthier lifestyle for the New Year, we figured we would encourage our members to create a sustainable one for themselves and their product lines. Typically seen in Japanese cuisine, we went with the flavor profile of serrano yuzu since we felt it would be a familiar and flavorful introduction to the vegan alternative. Oh, and insider tip, yuzu is a trending citrus fruit right now 😉.
That's a Wrap!
Well, that is a wrap on 12 months of sausages! It was incredibly fun and inspiring for us to hand craft each kit every month. We absolutely loved the feedback we received from our fellow Food Product Developers and hope that it inspired them as much as it did us. In case this post was TLDR, here is a quick sum up all of our featured sausages for this promotional campaign:
February – Chinese Red Spare Rib Sausage, using a pork protein X14316-V2
March – Garden Harvest Chicken Sausage, using 50% Chicken and 50% grain + vegetable X13584-V2
April – Anise Sesame Lamb Sausage, using lamb protein – X13446-V2
May – Chipotle Chicken Sausage, using chicken protein – X13676-V2
June – Texas BBQ Beef Brisket Sausage, using beef – X13632-V3
July – Prime Rib Steakhouse Sausage, using cuts of ribeye – X13456-V3
August – Gyro Lamb Sausage, using lamb protein – X13467-V4
September – Beer Cheese Sausage, using pork protein – X12828-V2
October – Pumpkin Turkey Sausage, using turkey protein – X13486-V2
November – Thanksgiving Sausage, using turkey protein – X13438-V4
December – Beef Borscht Sausage, using beef protein – X13436-V2
January – Serrano Yuzu Vegan Patties, using pea & wheat protein X13420-V3 + NuSpice's Vegan Fat System X13908-V2